Key Facts...
This import is restricted to users with Keypas CLA permissions so you may need to ensure that all users who should be accessing this import, such as a virtual head, have the permissions to do so.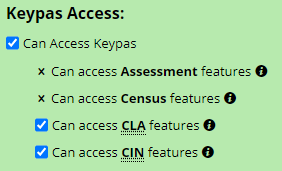 Your current CLA cohort will initially be populated by the children that were part of your last SSDA903 census return. See the guide to importing the SSDA903 for further details. The children in your SSDA903 will be matched to school census records where possible so details such as ethnicity and language can be included.
The purpose of the import process described below and the accompanying Keypas grids are to allow you to update your CLA cohort, and this can be done in a couple of ways:
If a child in your SSDA903 cannot be matched to a school census record, you can update the record in your current CLA cohort with information such as ULN or ethnicity.
If there are children that are not in your SSDA903 because they have become looked after since your last census return, you can add these children to your current CLA cohort using the import.
Why update the current cohort?
Reports associated with the CLA cohort are based on the cohort as it was on the census date. By the time that the census is submitted to DfE that information is already 3 months out of date with new children being added to the cohort and some no longer looked after. By updating the current cohort (as well as using the process to correct any errors/omissions) you can have a view in reports of both the 'statutory' SSDA903 cohort that will mirror that used in DfE statistics, but also the option to produce reports based on the current, up to date cohort (which can be updated as often as you need to during the year)
Current CLA Cohort Import
Your import file for the current CLA cohort can be exported from the Keypas grid called Manage Current CLA Cohort.
For those children already on the grid you can manually update the records directly on the grid or export the grid to update their information.
Once you have updated the records in your CSV or added new children you can import this data back into Nexus.
Keypas>>Imports>>Import New File>>Current CLA Cohort
You don't need to re-import ALL children if you have no updates for those records, but it is also acceptable to do this rather than removing them from your CSV.
You can also get a copy of the CSV template from the link on the import page, if you are only importing new children and not updating existing ones.
Previous step