What's New in Nexus?
This release includes the functionality required to provide key stage 4 exam analysis using raw exam results collected from schools.
We're also including the first phase of our children in need development in this release, it will be followed in later releases with much more functionality.
KS4 exam results import
GCSE exams in 2020 have been cancelled as a result of covid-19 but as pupils will be receiving predicted grades, schools will still receive exam results files as they would in any year.
Nexus will allow import of EDI results files that schools will receive from exam boards on GCSE results day, Wednesday 19th August.
Results imported will be matched to the 2020 spring census so please ensure you have re-imported your census files as we updated the import to include the ULN in May.
If results are matched to a different LA using the spring census, they will only be shared with that LA if you tick the box to Grant Permissions.
You can also import a CSV file for those results you do not receive by EDI, please read our KS4 Exam Results CSV Import article for information about using the CSV import.
KS4 prior attainment import
As key stage 2 attainment is the starting point for key stage 4 progress calculations, we have created a new import that will allow you to import key stage 2 attainment where you have gaps.
Keypas exam grids
We will be releasing some Keypas grids that will allow you to manage the exam data you import, you'll be able to take the following actions in relation to your data.
Decide which pupils are included in your end of key stage 4 cohort, while we will include any pupils returned as NC Year 11 on the spring census, you can exclude these pupils from your analysis in Nexus.

Once you have determined your end of key stage 4 cohort, you can decide if you want to eclude any of their results.
You can see all exam results you have imported for 2020 onwards.
You can see if you have any pupils with exam results that haven't been matched to your spring census.
Once you have decided which pupils are in your end of key stage 4 cohort and whether you want to exclude any of their results, you will have an aggregated pupil level export that mimics your key stage 4 key to success export.
Key stage 4 Nova reports
We are releasing a number of Nova reports that will have a new GCSE source that will work along side Keypas and NPD sources in future years.
These reports will be available in Nexus and Perspective Lite for any schools that have access.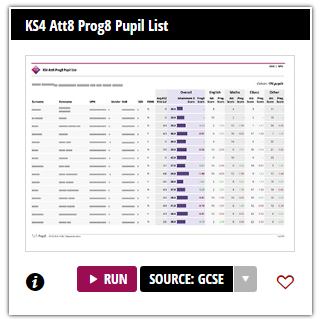 These reports will work in the same way as the Nova reports you're accustomed to, with similar filters and aggregations.
Key stage 4 Insight
Insight in Nexus will also make use of this new data source, the 2019/20 academic year will be defaulted to the new data source for key stage 4 but it will be available with Keypas and NPD in 2020/21.
All of the pages you currently have access to will be available in Nexus and your schools will have access in Perspective Lite.
Keypas import widget
You'll be able to track the number LAs that have imported exam data along with your own import using the import widget on the Nexus home screen.

Children in need import & Keypas grids
The CIN census is one of the returns that is still going ahead in 2019/20 and for the first time you will be able to import this return into Nexus.
We are making the import available now as this is also the time you will be preparing your return for submission to the DfE.
Putting your CIN census into Nexus now will mean that you are ready for the Insight and Nova analysis that will be coming soon in Nexus.
Nexus will accept the same XML formatted file that you submit to the DfE so you don't need to do any extra work.
We have also created a Keypas grid that will aggregate the data in your CIN file to give you some useful insights into your CIN cohort.
Nexus Permissions
In order to access the CIN import and Keypas grid you will need to have the new privilege we have created for this data source.

This privilege will not be granted automatically to any user and so will need to be assigned to those users that will have responsibility for importing the CIN census.
We have also created a new privilege that will be assigned to all Nexus Admins automatically but you should consider which users do not need this permission.
This new permission controls who can assign privileges to other users, if this is not ticked a Nexus Admin will not be able to change their own or other user's privileges.
Anyone without this permission will also not be able to add new users as they cannot change privileges.
We have added this new permission so that you have more control about who has access to certain data in Nexus.