You will need a Nexus account with the relevant access levels in order to import pupil premium data into Keypas. If you do not have access to the system you will need to contact a Nexus Administrator within your Local Authority.
Log into www.ncer.org
From the navigation bar hover over KEYPAS and select Imports.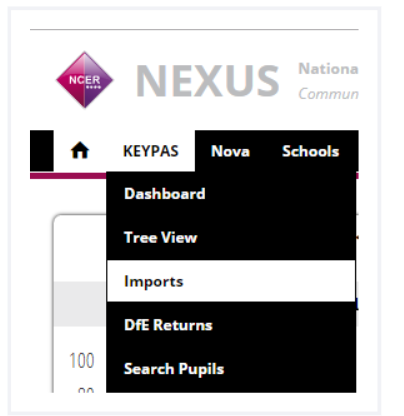 This opens the Keypas Import wizard. Click the Import New File button.
In the Select Import menu click Pupil Premium.
Read the guidance on the Pupil Premium Import page. Ensure that the file you are about to load is appropriately named to match the current standard.
Please note the warning about importing the data.
The process of doing so will replace all previous pupil premium data for the year. Also note that pupil level reports that include pupil premium data should be considered sensitive and distribution controlled appropriately, as is the case for the data itself.
Select the result year (usually the current result year, however you may be uploading historical data and need to change this.)
Either click the Add Related Files button to launch the import window or drag and drop the CSV file to the indicated area. Either way, select the correct pupil premium file for the results year you are uploading. (Refer to the table on this article if uncertain)
Click the Upload button.
The file will be checked for issues and – if accepted – you can click the Next button. (If there are errors you will need to rectify these).
The file will then be added to the import queue.
Check the status of the import. If there are no errors then the import process is complete. If there are errors then you will need to click on the file name for more information on the issue.
Previous steps
What is pupil premium and where can I download it?
Next steps