On pupil list reports, you can see the latest Ofsted inspection grade of the educating school.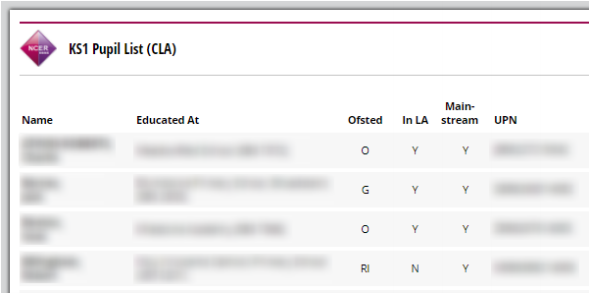 The codes used in these columns stand for:
O = Outstanding
G = Good
RI = Requires Improvement
I = Inadequate
N = Not inspected
Ofsted Filters
Most reports also allow you to filter pupils based on Ofsted grade. This means you can focus your analysis to only include pupils that attend schools with the specified inspection grade(s).
This is a multi-select filter option, meaning you can filter by, for example, outstanding and good schools together.
Ofsted Aggregations
Ofsted grade is also available as an aggregation option, allowing you to compare the performance of pupils in each grade of school side-by-side.
A school's Ofsted grade is obtained from the latest published inspection (full or short) when the inspection itself took place on or before 31 August of the exam year. This means that the reports carry the Ofsted grade as it was at the end of the academic year for which the report is is being run, regardless of any subsequent inspections.
Academies that have recently converted (whether sponsored or converter academies) are legally new entities and - regardless of the previous grade - will show as 'Not Inspected' for the purposes of this report feature until an inspection is carried out and the report published.