Welcome to the Nexus guide for Phonics in 2022/2023
Find out what the phonics process looks like in 2023 and what it means for you, your colleagues and your schools.
Understand the data collection process for phonics in 2023, including key dates.
Find out how you and your schools can benefit from NCER National figures.
Jump to..
2023 Timeline for Phonics
Phonics events are shown in blue on THIS timeline
The summer phonics tests will be administered between 12 and 16 June. The timetable variation week in 2023 will be from 19 June to 23 June. Some schools with a two week half-term may need to make use of the timetable variation week for administering checks. Schools have until the end of the summer term to submit their results (usually via CTF) to the LA.
COLLECT is open to receive your XML returns exported from Keypas until 21 July.
On 19 June the DfE will announce the expected standard threshold. For the last eight years, this has been set at 32 out of 40.
On the same day, Nexus will be updated with the appropriate outcome applied to all imported Phonics pupils, based on the announced threshold.
The DfE will release their initial phonics statistical publication in late-September. Thanks to Nexus, your LA has access to NCER National figures, up to two and a half months before DfE published statistics. NCER National figures are subject to change as they are updated with each importing LA, but historically have been accurate and extremely useful in giving LAs a strong indication of emerging national trends.
NCER National results are the earliest available national benchmark and source of progress data. They have been a reliable and robust source of early data for LAs and schools over the past 6 years, when compared to DfE National data.
NCER National results are an accumulated aggregation of data collected from schools by local authorities and become more robust as more LAs load their data. As such these figures are subject to change, it should be noted that NCER National figures are provisional and unpublished indicators of national benchmarks - not official DfE National data.
The Data
There are no changes to the data being collected for phonics between 2022 and 2023
In summer, during the test week of 12 June to 16 June, every Year 1 pupil (as well as any Year 2 pupils who did not meet the expected standard in the 2022 check) will take part in the phonics test.
In either check, the result is a simple score from 0 to 40 dependent on the number of correct answers they give.
At the end of June, the DfE will release the threshold mark that dictates whether a pupil is working at the expected standard (Wa). Those below the threshold are deemed to be working towards the expected standard (Wt).
The table below shows the data items collected for each child.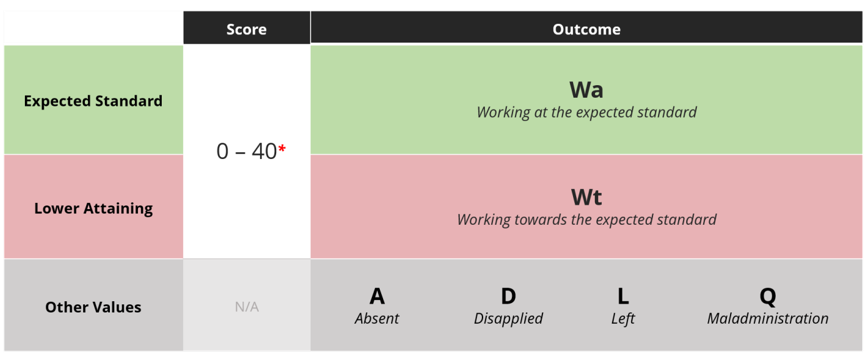 * A threshold score for determining pupils that are working at and towards the expected standard will be released by the DfE on 20 June.
Key Nexus Reports and Features for Phonics
Once your phonics data is imported into the Keypas area of Nexus, you can make use of these valuable reports and features for data analysis.
Keypas: Data Errors

Quickly identify the issues that need resolving within your data by reading the data errors report that lists each pupil record that has failed a validation check and the reason why.

This report is best used alongside the data cleaning grids for rapid resolution of errors.

Nova: Pupil List

Quickly list each pupil per school. This report is idea for supporting your quality assurance processes.

You can let schools check what data they have submitted before it gets sent to the DfE by sending the report back to the school through Perspective Lite.

Nova: B enchmark

You will be able to see all the schools in your LA and quickly identify the proportion of the cohort that have achieved good score and those that have not.

An APS score will give you an impression of how the school has done overall.

Nexus Home Page: Attainment Trends Widget

An emerging national picture will develop as LAs import their data into Keypas.

The widget allows you to compare your LA to all LAs who have imported and to the national published figures, once available, on a variety of performance indicators.

School Details Page: Real Time Data Trends

The data tab of each school page enables comparison of school values against an LA average and the NCER National.

If you have rolled out Perspective Lite to your schools, you can choose to share these data trends directly.

Nexus administrators can turn data tab visibility on/off for schools via the settings page.
Frequently Asked Questions
Do Local Authorities collect this data?

Yes, it is a statutory duty for local authorities to collect this data from schools. In 2022/2023 this applies to both the autumn and summer checks.

Where is the import?

Nexus > Keypas > Imports > Phonics

What are the expected import file types?

XML (CTF) or CSV (template available from DfE).

When will the 2023 import become available?

May 2023

What areas does it update?

Data cleaning reports and grids in Keypas.
Nova Reports and Batch Reporting.
Insight Headlines and Intelligence
Attainment Trends & Attainment widgets on the Nexus home page.
Schools module data tabs in Nexus.
Real Time data trends, Nova reports and Insight in Perspective Lite (if enabled)

Where can you produce the return file?

Nexus > Keypas > DfE Returns > Import New File > Phonics

What is the return destination?

COLLECT

Does Keypas calculate the outcome?

Yes. When the threshold is published on 19 June, Keypas will calculate the outcomes based on the imported scores.

Do reports work before the threshold is published?

Reports that rely on outcomes (Wt / Wa) should not be run prior to the threshold being published.

What are 'NCER National' figures?

The NCER National figures displayed in Nexus are calculated by harnessing the strength that comes from all LAs in England uploading their data into Nexus' Keypas module.

As more LAs load in their data, the figures become more robust.

These figures are provisional and unpublished indicators of national benchmarks, however NCER National figures have been robust when compared to official DfE National data over the past 6 years.