Welcome to the Nexus guide for EYFSP in 2022/2023
Find out what the EYFSP process looks like in 2023 and what it means for you, your colleagues and your schools.
Understand the data collection process for EYFSP in 2023, including key dates.
Find out how you and your schools can benefit from NCER National figures.
Jump to..
2023 Timeline for EYFSP
EYFSP is shown as the salmon coloured items in THIS timeline:
EYFSP settings will begin to submit their CTF or CSV data files to your LA from early June until the deadline on 30th June 2023.
COLLECT will be open to receive your return XML files from early June with a deadline of 31st July for complete submission by the LA.
The DfE will release their initial EYFSP statistical publication in mid-October. Thanks to Nexus, your LA has access to NCER National figures, up to three and a half months before DfE published statistics. NCER National figures are subject to change as they are updated with each importing LA, but historically have been accurate and extremely useful in giving LAs a strong indication of emerging national trends.
NCER National results are the earliest available national benchmark and source of progress data. They have been a reliable and robust source of early data for LAs and schools over the past 5 years of collections, when compared to DfE National data.
NCER National results are an accumulated aggregation of data collected from schools by local authorities and become more robust as more LAs load their data. As such these figures are subject to change, it should be noted that NCER National figures are provisional and unpublished indicators of national benchmarks - not official DfE National data
The Framework
Each child is awarded a level of 1 (emerging) or 2 (expected) in each of 17 early learning goal (ELG). The goals are grouped into areas of learning, such as communication and language and physical development. These areas of learning are themselves grouped into prime and specific areas. There is no longer an award of 'exceeded' under the new framework and so no pupils will receive a score above 2 in any ELG.
A pupil is considered to have made a good level of development if they have been awarded an expected (2) in all of the prime areas of learning, as well as the literacy and mathematics goals, 12 goals in total.
NB: A special case for Private, Voluntary and Independent establishments is that COLLECT only expects to receive the data of summer-born pupils, those born between April and August.
The table below shows the data items collected for each child.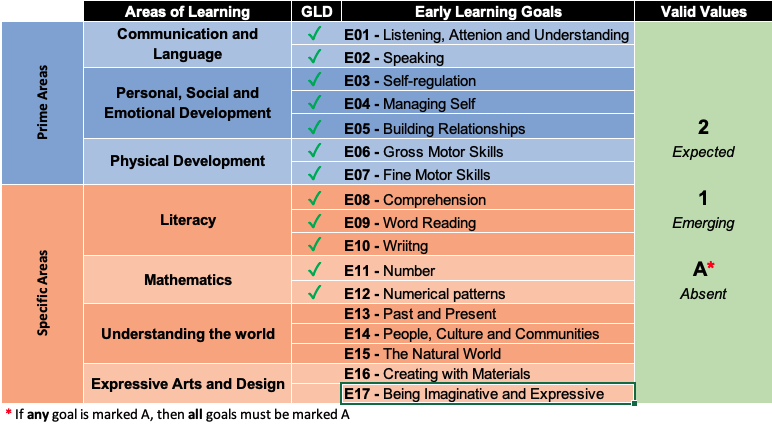 Key Nexus Reports and Features for EYFSP
Once your EYFSP data is imported into the Keypas area of Nexus, you can make use of these valuable Nexus reports and other features for data analysis. New versions of reports will be available to accommodate the new EYFSP framework from 2021 onwards.
Keypas: Data Errors

Quickly identify the issues that need resolving within your data by reading the data errors report that lists each pupil record that has failed a validation check and the reason why.

This report is best used alongside the data cleaning grids for rapid resolution of errors.

Nova: Benchmark (AOLS)

You will be able to see all the settings in your LA and quickly identify the proportion of the cohort that have achieved a good level of development.

An APS score will give you an impression of how the school has done overall.

Nova: Pupil List

Quickly list each pupil per school. This report is ideal for supporting your quality assurance processes.

You can let schools check what data they have submitted before it gets sent to the DfE by sending the report back to the school through Perspective Lite.

Nexus Home Page: Attainment Trends Widget

An emerging national picture will develop as LAs import their EYFSP data into Keypas.

The widget allows you to compare your LA to all LAs who have imported and to the national published figures, once available, on a variety of performance indicators.

School Details Page: Real Time Data Trends

On the data tab of each school page you can compare their GLD and APS against your LA average and the NCER National.

If you have rolled out Perspective Lite to your schools, you can choose to share these data trends directly.

Nexus administrators can turn data tab visibility on/off for schools via the settings page.
Frequently Asked Questions
Do Local Authorities collect this data?

Yes, it is a statutory duty for local authorities to collect this from settings in 2022

Where is the import?

Nexus > Keypas > Imports > Import new file > EYFSP

What are the expected import file types?

XML (CTF) or CSV (template available from DfE).

When will the 2023 import become available?

May 2023

What areas does it update?

Data cleaning reports and grids in Keypas.
Nova Reports and Batch Reporting.
Insight Headlines and Intelligence areas
Attainment Trends & Attainment widgets on the Nexus home page.
Schools module data tabs in Nexus.
Real Time data trends in Perspective Lite (if enabled)
Nova reporting and Insight in Perspective Lite (if enabled)

Where is the return process?

Nexus > Keypas > DfE Returns > EYFSP

What is the Returns destination?

COLLECT

What are 'NCER National' figures?

The NCER National figures displayed in Nexus are calculated by harnessing the strength that comes from all LAs in England uploading their data into Nexus' Keypas module.

As more LAs load in their data, the figures become more robust.

These figures are provisional and unpublished indicators of national benchmarks, however NCER National figures have been robust when compared to official DfE National data over the past 5 years of collections.